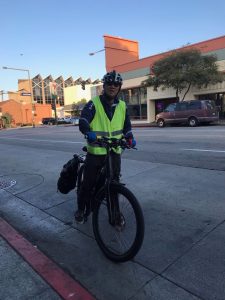 Burbank commuters come in all kinds. People bike, walk, bus, scoot, carpool, vanpool and drive. This series is intended to share the stories of commuters who demonstrate it's possible to get to work without driving alone!
This month we're featuring Vincent Wang!
Read on to learn more!
Where do you work in Burbank?
I live in Burbank and work in Monrovia.
How do you get to work on a typical day?
I ride my e-bike to and from work. It usually takes me 1 hour 15 minutes for the 24 mile one-way trip.
What is the best part of your commute?
The best part of my commute is being able to exercise while saving money on gas and doing my part to reduce pollution; not to mention the freedom from the rush-hour traffic.
What/who compelled you to begin commuting this way?
I have always loved cycling as a recreational activity. Then one day it dawned on me: why not commute to work by bike?
Do you have any interesting commute stories you'd like to share?
While riding my bike to work, I was struck by a car in downtown Glendale a few years ago.
Are there any commuting tips that you'd like to share with people working near you?
I usually ride in bike lanes whenever possible.  I also wear a reflective vest and helmet for safety. When I ride near parked cars, I always try to leave enough distance just in case the driver or passenger in the car swings the door open without looking. The law actually mandates that the driver overtaking a bicycle shall do so at a distance of no less than 3 feet*, but I have had several very close encounters when cars overtook me from behind. I believe the only solution is to have more bike lanes.
*Following the lead of many other states, California passed the "Three Feet for Safety Act" in 2014 (California Vehicle Code section 21760) which requires that drivers maintain a minimum 3-foot buffer when passing a bicyclist.