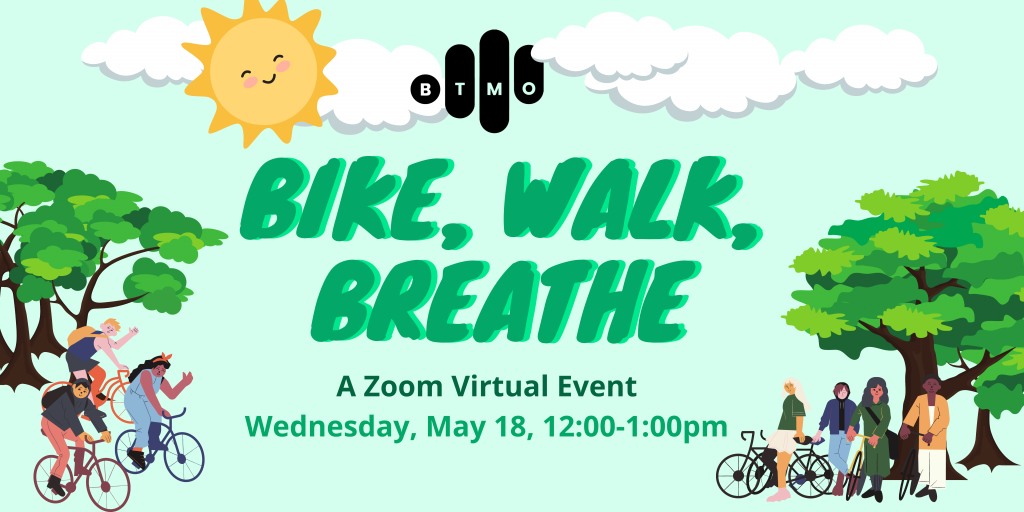 Join the BTMO, your neighbors, and coworkers on May 18th for this year's Bike, Walk, Breathe event! You'll learn everything you need to know to prepare for Bike Month, Bike to Work Day, and beyond.
Wednesday, May 18, 2022
12:00pm – 1:00pm
RSVP here or by emailing info@btmo.org to obtain the Zoom link.
This fun and interactive Zoom event will feature three mini "How-To" sessions:
Maintain and Dust Off Your Bike led by Theresa Shampay, Go Green Bicycles
Navigate Maps, Apps, and Bikes for Transit led by the City of Burbank and the BTMO
Live Stretching and Exercise led by Samantha Bland, FIT Health Club
There will be expert panelists, opportunities for Q&A, and the chance to win SWEET PRIZES including refurbished bicycles, Dodgers tickets, Warner Bros Studio Tour passes, and more!
Feel like spreading the word? Download a copy of the event flyer here and share with your networks!
After-Event Outdoor & Virtual Workout Class
And don't forget to join us – either in-person or via Zoom – for an after-event workout hosted by Samantha Bland from FIT Health Club! The Outdoor & Virtual Workout Class will be held at the Garden Plaza at the Pointe from 1:30-2:00pm. Email Samantha for more info and to reserve your spot today: sbland@aagfitness.com.