Last week BTMO came together with its partners and community members for another scintillating Bike Month event: Bike, Walk, Breathe!
In case you missed it or you just want to revisit the fun, we recorded the informative spectacle and made the three mini "How-To" sessions content available on our YouTube channel. If you'd like to view a session, please click the title below of the session you're interested in.
How to Dust Off and Maintain Your Bike led by Theresa Shampay, Go Green Bicycles
Navigate Maps, Apps, and Bikes for Transit led by the City of Burbank and the BTMO
Live Stretching and Exercise led by Samantha Bland, FIT Health Club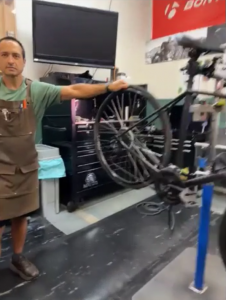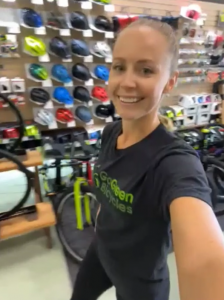 During the "How to Dust Off and Maintain Your Bike" session, Theresa performed a live bike tune-up and tire repair via Zoom from their Burbank shop, located near the intersection of W Alameda Ave and San Fernando Rd. If your bike could use a tune-up or if you have any questions about bike maintenance, check out the recorded session or pay 'em a visit!
The second session, led by Nick Burant of the City of Burbank, provided an overview of how to pair a bike and transit trip with options like Metrolink, LA Metro, and Burbank Bus to make multi-modal travel practical. He even showed us this super quick but informative video tutorial for how to master the seemingly hard-to-use bike racks! It didn't stop there. He also showed us how apps like Transit, Citymapper, and Google Maps can actually be your friend and make your commute that much smoother. Check out his video segment!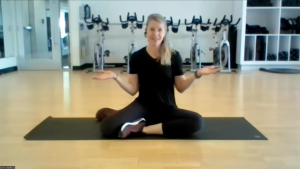 We finished the How-To sessions with a guided and interactive stretching session led by Samantha Bland of FIT Health Club, a health club with multiple locations in Burbank! She reminded us that greasing your joints is just as important greasing your bike chain!
We owe a BIG thank you to our amazing event speakers for shedding light on how to successfully walk, bike, and breathe! We also want to thank our event sponsors – Burbank Bike Angels, Disney, Go Green Bicycles, Fleet Feet, Warner Bros., and Worthe Real Estate Group – for the time they dedicated to planning this event and their generosity providing prizes.
If you'd like to contact one of our guest speakers, please reach out to info@btmo.org. And of course, thank you to our attendees for demonstrating your commitment to you and your community – we salute you!
We're already looking forward to next year's event! Until then, see you "multi-modalers" out there!