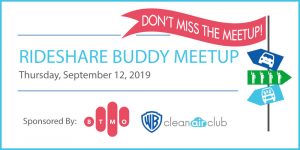 Tired of driving alone on the open road?
Come find a buddy (or two) at the Rideshare Buddy Meetup!
We'll match you with other commuters traveling to and from the Burbank area.  Guest speakers from Waze Carpool and Commute with Enterprise will be onsite to help answer any questions. Lunch will be provided AND you'll have an opportunity to mix and mingle to find a new way to commute!
When:  Thursday, September 12, 2019 (12noon-1:30pm)
Where:  The Pointe,
KCET Community Room, 6th Floor
               2900 W. Alameda Ave.,
Burbank, CA 91505
How:  We encourage you to walk, rideshare, bike and/or take transit.  If you drive, please park in the structure off of Bob Hope Dr. and sign-in at the front desk before heading up to the 6th Floor.  We will validate your parking.
Who:  BTMO member employees, Warner Bros. employees and Burbank residents
Any questions? Contact Jacinta Williams at info@btmo.org