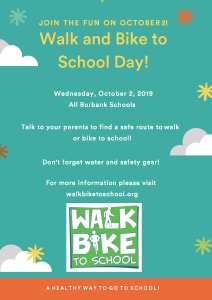 Walk and Bike to School Day, Wednesday October 2nd!
During your commute you can help make the date better for students:
Slow Down! Driving below 25 mph reduces the likelihood of fatal injury if a driver hits a pedestrian.
Hide the Phone! Driving while distracted is JUST AS DANGEROUS as driving under the influence.
Walk or Bike to Work! More people on the sidewalk or in the bike lane helps make all users more visible!
We hope you'll support Burbank Schools by taking these simple actions!