Thanks to all of you who joined us for the Party Online!
Bike and Walk to Work Day 2020 on Zoom
Tuesday, September 22, 2020
10:30a.m. – 12:00noon
Health • Safety • Prizes • Fun
Join us for a virtual, family-friendly event and
learn new ways to keep healthy while staying safer at home!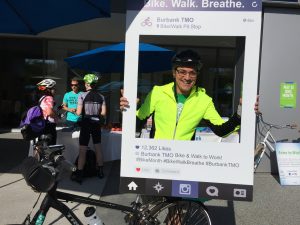 Bike Safety 101 Mini Class: Rekindle the Love for Your Bike | Los Angeles County Bicycle Coalition
Quarantine Wellness At-Home Workout & Smoothie Break | LifeStart
Complete Streets Plan Update | City of Burbank
How to Fix a Flat | Go Green Bicycles
Become an Advocate | Walk Bike Burbank
Walk the Walk | Fleet Feet
How We Can Help You/Prize Raffle | BTMO
Where: We'll send you the link
How: RSVP here by Friday, 9/18
Who: All who love to walk and bike in Burbank
RSVP here, or to Jacinta Williams at info@btmo.org, by 9/18 for a chance to win great prizes, including a Pure Cycles bike!
Be among the first 50 to register and we'll donate $20 in your name to the
Burbank Bike Angels – a local nonprofit that restores and donates used bikes to kids in our community.