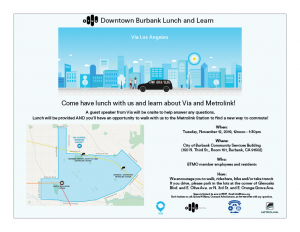 Come have lunch with us and learn about Via and Metrolink!
A guest speaker from Via will be onsite to help answer any questions.
Lunch will be provided AND you'll have an opportunity to walk with us to the Metrolink Station to find a new way to commute!
What: BTMO Downtown Burbank Lunch and Learn
When: Tuesday, November 12, 2019, 12noon – 1:30pm
Where: City of Burbank Community Services Building,
150 N. Third St., Room 101, Burbank, CA 91502
Who: BTMO member employees and residents
How: We encourage you to walk, rideshare, bike and/or take transit. If you drive, please park in the lots at the corner of Glenoaks Blvd. and E. Olive Ave. or N. 3rd St. and E. Orange Grove Ave.
RSVP by Friday, November 8th, 2019
Download the BTMO Downtown Burbank Flyer here.