This post was updated on March 26, 2020.
The new schedule for the full closure of Burbank Boulevard (NOT I-5 CLOSURE) at the bridge over Interstate 5 (the Golden State Freeway) in Burbank is scheduled to begin at 12:01 a.m. on March 28, 2020. The schedule is weather-permitting and is subject to change.
Also, Caltrans plans to close I-5 for 36 hours in April. During demolition of the bridge, I-5 in Burbank will be closed to all traffic in both directions from 3 p.m. April 25 to 3 a.m. April 27. Caltrans advises the public to make plans now to avoid driving on I-5 in the Burbank area on the weekend of April 25, and watch for further announcements in the near future about alternative freeway routes, local detours and other tips for motorists.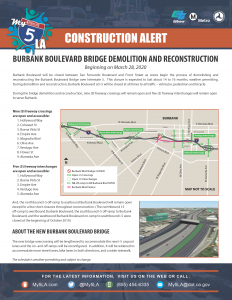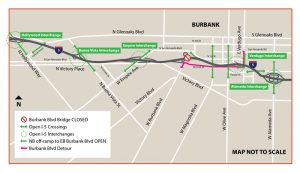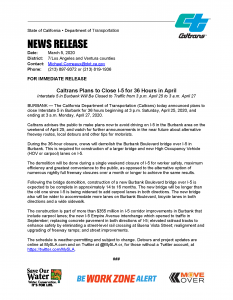 Download the I-5 news release here.
Download the BurbankBridge flyer here.
Learn more about the bridge closing.
Learn more about the I-5 closure.