This post was updated on April 28, 2020.
BURBANK BOULEVARD IS CLOSED AT I-5 FOR BRIDGE DEMOLITION AND RECONSTRUCTION
I-5 is open between State Routes 134 and 170 in Burbank, Glendale and Los Angeles after successful bridge demolition, installation of new striping, replacement of pavement slabs, drain cleaning and other maintenance during the 36-hour closure.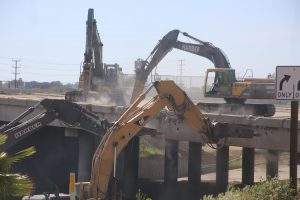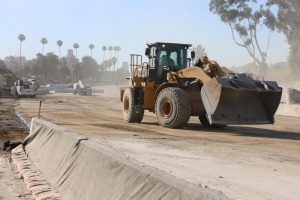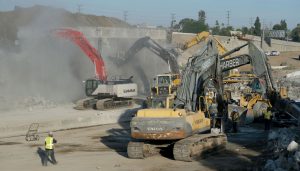 Burbank Boulevard is closed to all traffic between San Fernando Boulevard and Front Street in Burbank for reconstruction of the Burbank Boulevard Bridge over Interstate 5. This closure is expected to continue until summer 2021, weather permitting and subject to change.
During bridge reconstruction, Burbank Boulevard at I-5 will be closed at all times to all traffic: vehicular, pedestrian and bicycle. The northbound I-5 off-ramp to eastbound Burbank Boulevard generally will be open to traffic except during several closures, each lasting up to 55 hours.
During bridge reconstruction, nine (9) freeway crossings will remain open and five (5) freeway interchanges will remain open to serve Burbank.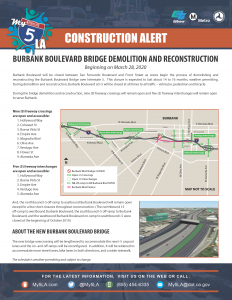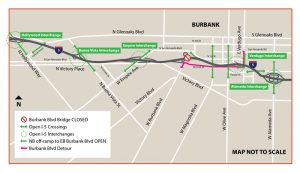 Learn more about the bridge closure.
Download the BurbankBridge flyer here.
Bridge Demolished During Temporary Freeway Closure