Come Learn About the Progress Being Made on the I-5 Widening Project
WHAT: Caltrans is hosting the annual Community Open House for the I-5 Widening Project.
Caltrans will provide a project update and you will have an opportunity to ask questions of the project team.
WHEN: Thursday, September 17, 2020, 6 p.m. to 7:30 p.m.
WHERE: Due to COVID-19 guidelines, this will be a virtual (online) event only. It's free and registration is simple and fast. Please register online at either:
https://tinyurl.com/yxmzun6d OR
https://attendee.gotowebinar.com/register/5962178076791090956 OR
My5LA.com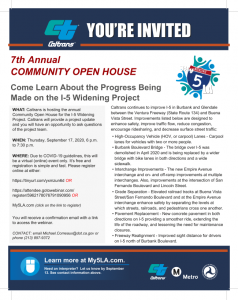 Download the 2020 Open House Invite Flyer here.