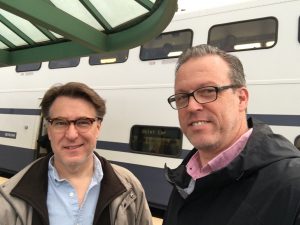 Burbank commuters come in all kinds. People bike, walk, bus, scoot, carpool, vanpool and drive. This series is intended to share the stories of commuters who demonstrate it's possible to get to work without driving alone!
This month we're featuring not one, but two awesome commuters!
Both Brad and Dave work at Nickelodeon Studios and provided some helpful tips for fellow commuters.
Where do you work in Burbank?
Brad: Nickelodeon Studios
Dave: I am a Supervising Director at Nickelodeon Animation Studio.
How do you get to work on a typical day?
Brad: I take the Antelope Valley Metrolink
Dave: I drive my car to the Santa Clarita Metrolink station, take the train to downtown Burbank and then walk a couple blocks to the studio.
What is the best part of your commute?
Brad: Returning home at the end of the day and not feeling exhausted from driving in the rush hour traffic.
Dave: The solitude. I appreciate the options presented by the hour and a half of free time I gain every day. I can read, sleep or stare out the window. They may not seem like much, but it is an ideal time to gear up or decompress after a long day.
What/who compelled you to begin commuting this way?
Brad: It started with how conveniently close my work was located to the Burbank Metrolink station.
Dave: I don't deal with traffic and aggressive drivers well, so taking the train was a no-brainer for me. I have taken the train for as long as I have worked at Nickelodeon – 15 years.
Do you have any interesting commute stories you'd like to share?
Brad: Just don't fall asleep on the train. You may end up on a bigger adventure than you'd planned.
Dave: I made the mistake of chatting on the "quiet car" once. Once.
Are there any commuting tips that you'd like to share with people working near you?
Brad: Get the Metrolink app on your phone. It's way more convenient for purchasing tickets than using the machines at the stations, especially if you're in a rush and there's a line at the machine.
Dave: I always highly recommend the Metrolink to fellow employees, especially those that live in Santa Clarita. The monthly cost is a deal when it comes with the benefit of avoiding the daily grind on the 5 freeway.
Keep Up with Dave on Social Media!