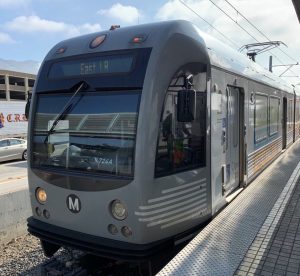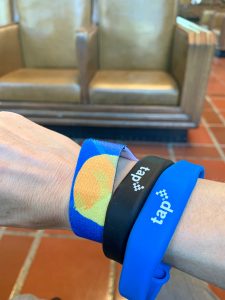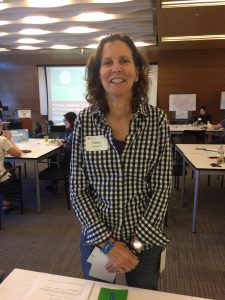 Burbank commuters come in all kinds. People bike, walk, bus, scoot, carpool, vanpool and drive. This series is intended to share the stories of commuters who demonstrate it's possible to get to work without driving alone!
This month we're featuring another amazing commuter!
Debbi Converse regularly commutes to her job at The Pointe in Burbank.
Read on to learn more!
Where do you work in Burbank?
I work for Public Media Group of Southern California (KCET, PBS SoCal, and Link TV) at The Pointe on Alameda Ave.
How do you get to work on a typical day?
I take the Gold Line in Pasadena a few stops to meet the 501 Metro bus for my express journey to Burbank.
Once a week when I go to our Costa Mesa office I take the Gold Line to Union Station and then either Metrolink or Amtrak's Surfliner from there.
What is the best part of your commute?
Being able to answer email or read while avoiding the bumper to bumper traffic on the 134 freeway is a win-win!
What/who compelled you to begin commuting this way?
A few years ago my beloved Jeep died in a very SoCal way: on the 405. I had to quickly figure out the mass transit options to get to and from work because Lyft & Uber, while great, really add up.
I continued with Metro after I got a new car, but my ridership became very infrequent.
Flash forward a year later and BTMO offered us pre-loaded TAP cards at about the same time I was saying, "I just can't do this traffic every day, it's getting worse each year!" My company also started offering a transit benefit. So thank you, BTMO, and thank you, PMGSoCal.
Do you have any interesting commute stories you'd like to share?
You really do get used to being a mass transit commuter quickly.
So quickly that one night I rode the bus / train home and, after a nice, relaxing dinner, went through my garage to take out the trash. Well, guess what? My car was gone and my garage was empty! It took me a moment to realize it, but I'd DRIVEN TO WORK THAT DAY. Oops!
Another time a fellow commuter told me how much she loved the smell at the Del Mar Metro station.
Me: What?
Her: The Luggage Room Pizzeria is there!
We talked about it for so long I joined her there for dinner that night.
Are there any commuting tips that you'd like to share with people working near you?
Get a TAP card wearable bracelet — it will save you from having to dig around in your backpack or wallet for your card. Click here to learn more.
Follow @metrolaalerts on Twitter for the most up to date rider information like service interruptions. It's way more up to date than Metro LA's website.
Take the time to talk to your fellow commuters while riding or waiting. People have amazing stories.
Keep up with Debbi on Social Media!
Twitter: @rsskeeziks