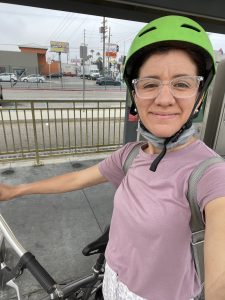 Let us introduce you to another amazing Burbank commuter…
Erin Castillo!
Commuters of Burbank is a series that intends to share the stories of Burbank commuters who bike, walk, bus/train, scoot, carpool, or vanpool to get around. They demonstrate it's not only possible to commute without driving alone, it's fun!
Continue reading to learn more about Erin, our Commuter of the Month
1. Where do you work in Burbank?
I work at the Burbank Public Library's Central and Buena Vista branches in our technical services department.
2. How do you get to work on a typical day?
Depending on the day, I do a combination of riding the bus with either walking or biking to the branch.
3. What is the best part of your commute?
I love commuting with public transportation because it gives me free time to do anything other than drive! When I bike, however, I love that I can be outdoors and get a little bit of exercise on my way to work.
4.What/who compelled you to begin commuting this way?
When I started working for the library, I had also just begun an online master's degree in library and information science (a fitting career move). I knew the coursework would be intense, so whenever and however I could get free time to read, study, and do assignments, I would take advantage of it. Commuting via public transportation has allowed me to do just that and more! I have completed scholarship applications, listened to lectures and webinars, and caught up on personal, work, and school emails all while on the bus.
5. Do you have any interesting commute stories you'd like to share?
I've seen a lot of heartwarming moments on the bus when the community comes together or watching families travel. One particular instance of community happened when a young woman, whose English was very limited, was receiving unsolicited attention from an older male rider. Two young American women noticed her discomfort and stepped in to protect her for the remainder of the ride.
6. Are there any commuting tips that you'd like to share with people working near you?
Pack smart.
Expect the worst.
Stay aware.
Enjoy this video showcasing Erin's commute!
Connect with Erin on Instagram @erinncastillo, on Facebook @erinncastillo, or on Twitter @erin_n_castillo