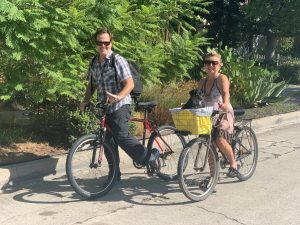 Burbank commuters come in all kinds. People bike, walk, bus, scoot, carpool, vanpool and drive. This series is intended to share the stories of commuters who demonstrate it's possible to get to work without driving alone!
This month we're featuring two amazing commuters!
Laura and Bobby regularly commute just about everywhere on their bikes.
Read on to learn more!
Where do you work in Burbank?
Laura: I work from home and Bobby works in the entertainment industry.
How do you get to work on a typical day?
Bobby: I ride my bike everywhere, to Universal, Disney, Warner Bros.
What is the best part of your commute?
Bobby: Going over the bridges and seeing the cars bumper to bumper on the freeway, knowing you'll get to your location faster than those cars. I'm always amazed at how easy it is to get from one destination to another.  Ease of ability to navigate around traffic and congested intersections instead of sitting in your car and waiting for people to get out of the way. I also like that you can stop and walk and go inside a store anytime you want. I like being able to pull up right in front of the store because bike parking is abundant compared to car parking.
Laura: Building a sense of community through walking makes you feel comfortable in your neighborhood because you're able to talk to people as you meet them. I like feeling a sense of accomplishment in the use of my body and it's good for the environment.
Bobby: To add to that, biking and or walking, if you meet people you can actually talk to them, and you can change your route while commuting based on the information they give you (such as its crowded at this store, or there's an accident at this intersection) and you don't have to drive over there and find out yourself.  Also, there are limited views when riding in a vehicle. You don't have a full 360 view like when you're on a bike and you can feel everything. You don't feel constricted and confined. You can almost feel the jealousy when you pull up right in front of the store or the coffee shop when you ride your bike while someone is still struggling to find parking.
What/who compelled you to begin commuting this way?
Bobby: My truck was stolen and there was another car available as an opportunity. But then I tried using one vehicle and realized how much money was saved and that money went to date night or fun incidentals, and then I realized how good it felt to walk and bike because you can get extra chocolate.
Laura: I started this lifestyle in college at UC Santa Cruz. I rode my bike from Canada to CA and have always been an outdoor enthusiast. I was even hit by a car in college and I still like bikes.  There's something about being about in nature and seeing everything puts you in a glorious mood. Can't say that when you're stuck in a car.
Are there any commuting tips that you'd like to share with people working near you?
Laura: Both Bobby and I have athletic sunblock shirts to protect from sun damage, and they have tons of pockets as well. Obeying the rules of the road the same as cars is a great way to make sure the cars respect you. Don't bike parallel to other bikers, bike in a single file line. Watch for car doors opening. Learn your arm signals from turning to road obstruction. Inner tube liners will help with LA roads. Be able to know your bike and how to repair it so you know how the bike works. It's good to know how it works – how to get comfortable with your bike, so that it becomes part of your body / part of you and there's a sense of confidence.  Get confident on your bike. The more you ride, the more comfortable you'll be.  Hugging the side in traffic is dangerous – ride strong and let the cars see you and ride so they can see you and be confident in your presence on the road.
What are some ways that you get around Burbank when not using car?
Laura: We do everything from riding bikes, to walking, and sometimes rideshare.
Can you describe a typical day?
Laura: I'm temperature sensitive, so rideshare is the option if you have to go an important meeting. Bobby will ride his bike in hotter weather. Typically, we ride all day. We'll go grocery shopping on our bikes with the dogs to Whole Foods.
Keep up with Laura and Bobby on social media!
Bobby's social media:
Instagram: @thebobbykingshow
Twitter: @bckingstunts
Facebook: @bobby c. king
Laura's social media:
Instagram: @Laurafayeten
Twitter: @laurafayeten
Facebook: @laura faye tenenbaum