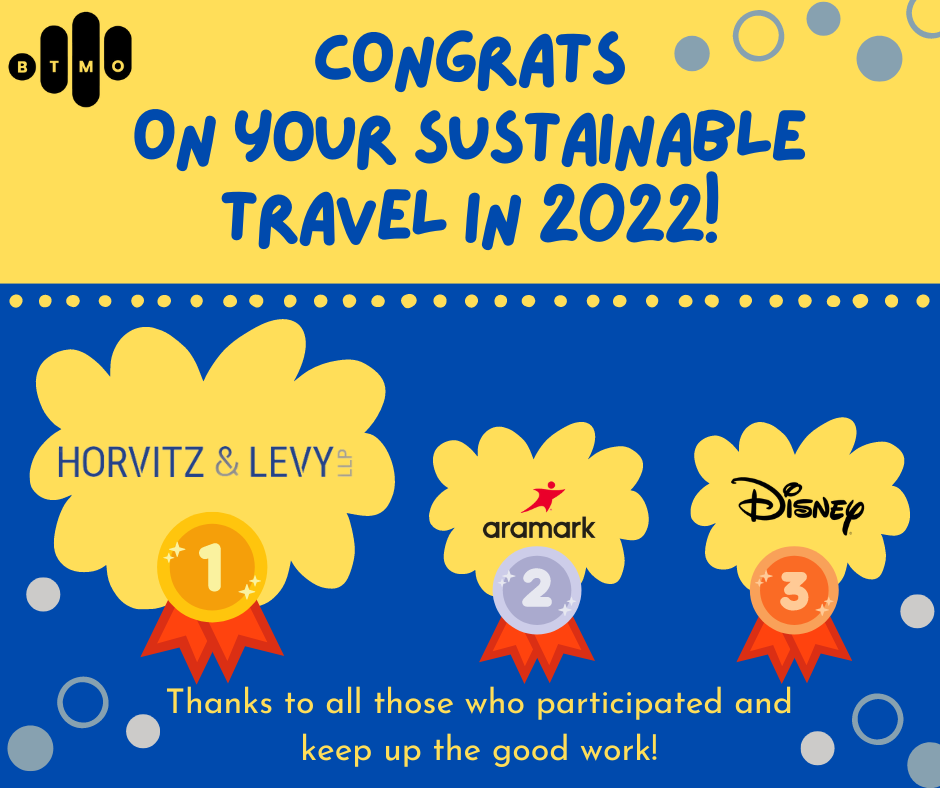 With 2022 in the books, it's time to recognize the tremendous efforts of Burbank's ETCs who obtained high average vehicle ridership (AVR) scores and supported safe and sustainable travel in our city. AVR is a metric used to measure the number of people commuting to or from a site versus the number of cars.
We especially want to thank all the ETCs who submitted their 2022 Burbank Trip Reduction Survey Reports. Their timely submittal helps the BTMO present the cumulative results to the City, enabling decision-makers to better understand how employees commute to and from work and helping to guide future transportation plans and programs in Burbank.
This year, we have awarded prizes to the ETCs with the highest overall AVR scores at worksites that are not entirely teleworking.
Despite the challenges faced throughout the year, ETCs citywide stepped up to promote alternative transportation options that benefit our commuters, our companies, and our community. These awards are intended to highlight and reward the efforts made by those ETCs.
Now, onto the prizes…
Congratulations to our 1st Prize Winner, Avalon Blinn, from Horvitz and Levy! Coming back for the crown again, Avalon achieved the highest score this year with an AVR of 5.2!
Our 2nd Prize Winner is the Azhalea Lemus from Aramark. She achieved a tremendous 2.58 AVR this year!
Our 3rd Prize Winner is the ETC team from Disney. Grant Dawdy and Cassi Basile just barely missed out on second place, with an AVR score of 2.37.
On top of our high-scorers, we also award the ETC who is most improved from the year before! Our most-improved this year is Sarah Meder from Worthe – The Tower!
Thanks again to all who participated this year!
Downtown
Aramark Uniform Services
S&H Machine, Inc.
Barnes & Noble
SEGA of America
City of Burbank
Media Studios Campus – Worthe
Nickelodeon
Stoopid Buddy Stoodios
Media District / Airport Area
2G Digital Post Inc.
Horvitz & Levy LLP
Fotokem Industries Inc.
Therapeutic Associates
Worthe Real Estate Group / Media Studios
The Walt Disney Company
Whole Foods Market
CarMax Auto Superstores, Inc.
Overton Moore Properties
Cartoon Network Studios
New York Film Academy
Picture Shop/Formosa Group
Pinnacle I
Providence Saint Joseph's
Ralph's Grocery Company
The Burbank Studios
Worthe Real Estate Group
Questions about this year's survey or still need to submit your forms?
The deadline to submit this year's survey was December 1, 2022. Submissions after this time period will no longer be considered for prizes. However, if your company would like to conduct the commute survey later, either to align with your deadlines for the South Coast AQMD or for another reason, let us know and we are happy to grant you an extension. Please contact Ken Premo ken@btmo.org.