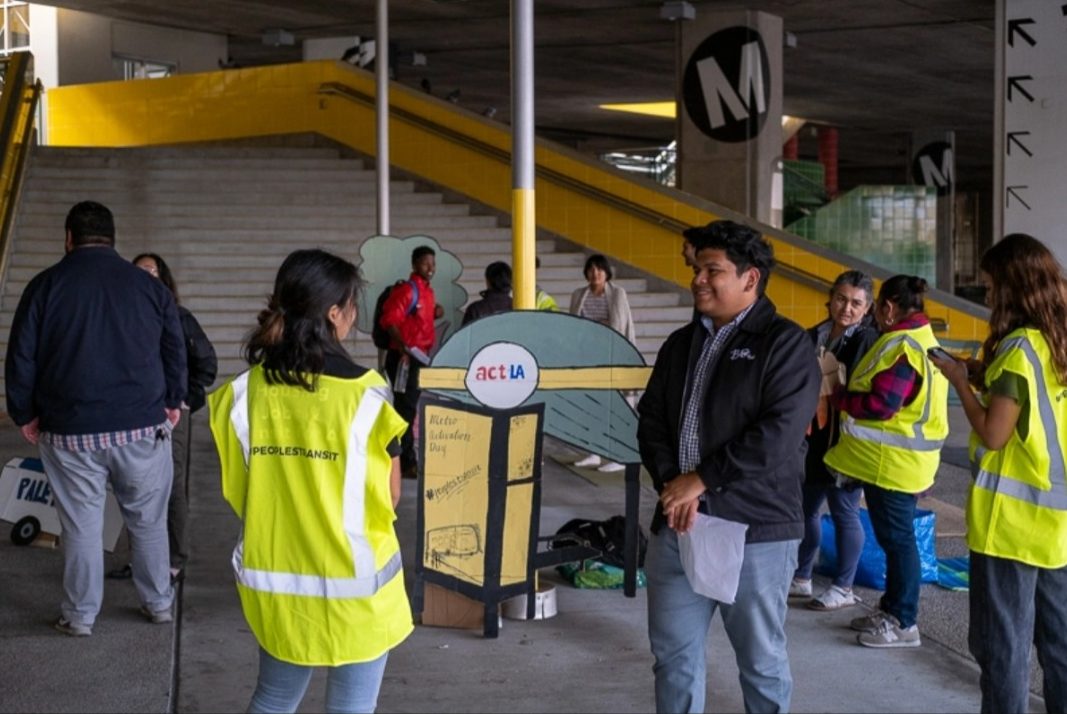 Source: LA Streetsblog
In its most recent budget, Metro has increased its spending on public safety measures by 12.5% in order to keep riders safe and ensure a pleasant experience while on board. 
As more and more of us continue to return to transit, undoubtedly, there are concerns about personal safety and the safety of others around you. With this post, we hope to shed some light on all the work Metro is currently doing to maintain safety on the system and provide better service for all. 
Below are some key public safety-related policy decisions recently made by Metro:
On April 4, 2022, Metro initiated the "Respect the Ride" pilot program. This program was created to improve safety and the customer experience by deploying representatives to help riders, identify and resolve problems more quickly and make Metro a more welcoming experience for everyone. These staff members are able to help customers navigate the system, pay their fares, and use the Transit App. As well, this program hired new staff to enhance cleaning measures at rail stations. 
At the end of May, Metro partnered with the L.A. County Department of Mental Health to pilot the provision of comprehensive crisis response services to individuals experiencing mental health crises while onboard Metro vehicles or at Metro stations. LACDMH and Metro will work together to deploy psychiatric mobile response teams where needed within distinct areas of the Metro system to de-escalate crises, provide linkage to appropriate mental health services and educate the community.
Most recently, on June 24, the Metro Board of Directors approved two contracts for staffing its new pilot transit ambassador program. Ambassadors will be on Metro buses and trains and in stations to greet riders, help them navigate our system, pay fares, download key Metro apps and work with Metro to quickly address issues. The ambassador program will be housed outside of Metro's System Security and Law Enforcement Department. The emphasis is to greet riders and have the time to create positive and compassionate interactions with them. The ambassadors will also work with crisis intervention teams to help connect riders who are unhoused or experiencing mental health crises to social services.
The overall increase in Metro's 2023 public safety budget mainly serves as an expansion of its "Respect the Ride" program and the launch of the $40 million Ambassador Program. On top of that, Metro has amended its $170 million in contracts with local agencies to reflect a more community-centered approach to law enforcement. Additionally, the budget increase reflects expanding security measures to include the new Crenshaw (K) line and the Regional Connector. Metro will also be improving communications between their bus and rail operators and security to reduce response times to incidents.
As always, the best way to remain safe on Metro is to always be attentive and cautious. Here are some safety tips for all users to keep in mind when using the system:
Know your route.

Plan your route ahead of time and leave early so you're not rushed. Have a backup route just in case there's a delay with your first plan.

Travel with a friend whenever possible.

When you stay together on board the bus or train, safety is in numbers.

Stay alert to what's going on around you.

Keep a look out for your stop. If you need to use your phone, look up from your screen often, and keep one earbud out so you can hear what's going on around you, too. If you ever see someone acting in a way that makes you uncomfortable, move away. Sit closer to the bus/train operator or switch to another bus or train car. 

Hold on to your stuff.

Keep your phone, devices and any valuables in your bag. Be sure you take everything with you as you exit.

See something? Say something.

Know how to get help if you ever don't feel safe. If there's someone or something causing you to not feel safe, let us know and someone will respond right away.
The real eyes and ears of the system are you. To contact Metro Security about an incident (non-emergency), a safety concern or suspicious activity:
Call: 888.950.SAFE (7233)
Text: 213.788.2777
Use the Transit Watch app for smartphone. 
In case of an emergency, always call 911.