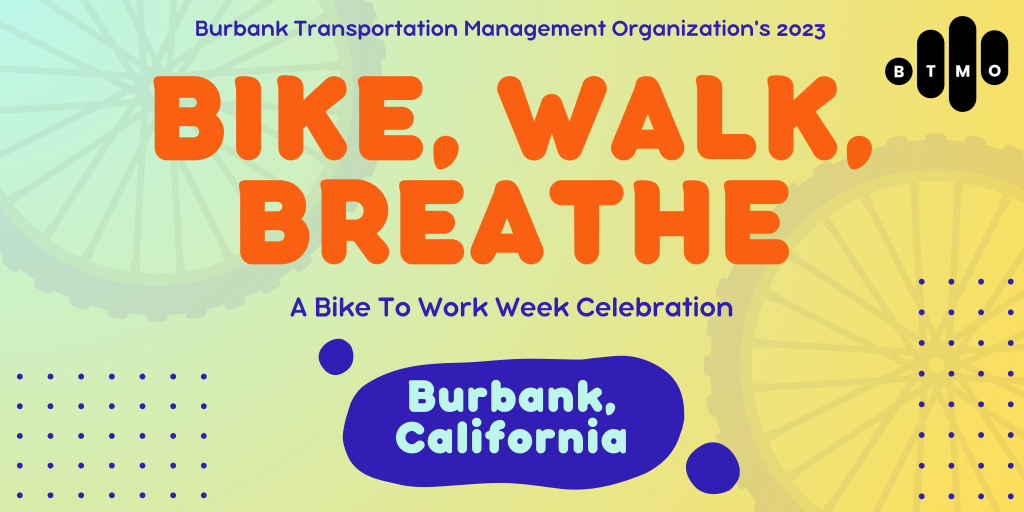 Join the BTMO, along with your neighbors and coworkers, for an exciting morning on May 17th from 7 to 10 AM at this year's Bike, Walk, Breathe event! You'll learn everything you need to know to prepare for Bike Month, Bike to Work Day, and beyond.
Come for a fun-filled event with giveaways, bike repair, music, outdoor spin classes, snacks, drinks, and representatives from Burbank organizations who will share valuable information and resources to help you break free from a daily commute of driving alone.
We will have two pit stops: one at the Downtown Burbank Metrolink station and another at The Pointe in the Media District.
This annual event encourages commuters to bike to work (or wherever they need to go), helping to save money, improve health and lower stress levels — all while reducing traffic congestion and improving air quality.
Raffles and prizes
Free bike repair 
Outdoor spin class and sound bath led by health instructor Samantha Bland
Juices from Suja Organic
Refurbished bikes for sale from Burbank Bike Angels
Music
Resources from Metrolink, Metro, Go Green Bicycles, and more!