Starting July 1st, LA Metro is going to transition to a new fare structure meant to save its most frequent riders the most, and even giving them free rides! The BTMO has put together this short guide to explain how this new fare system works and some of the motivations behind the changes.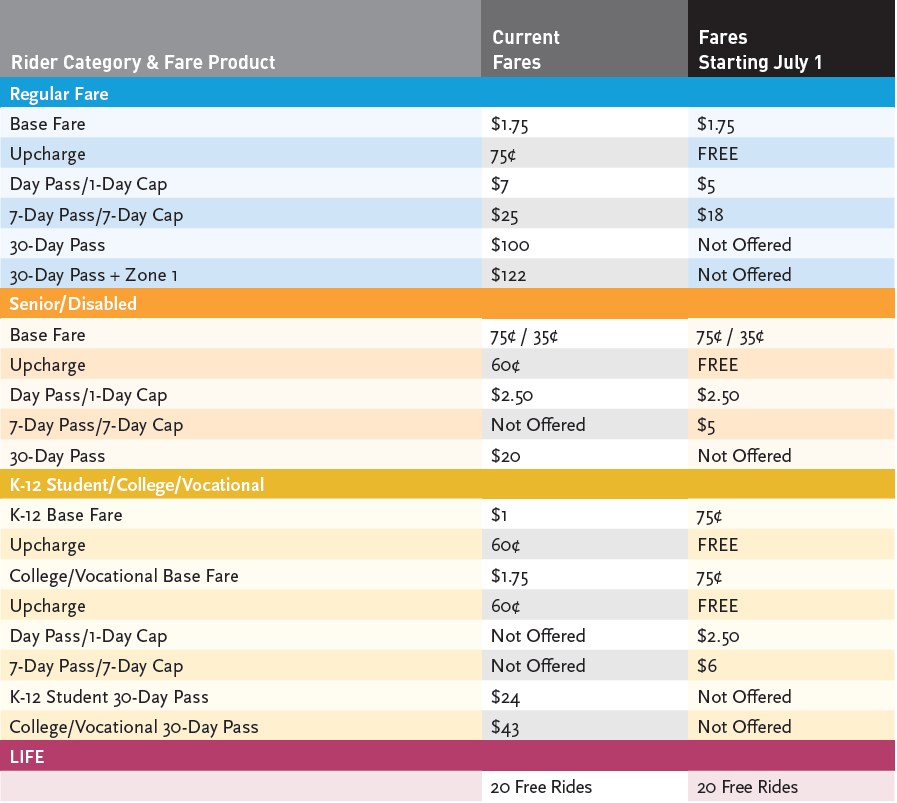 What is fare-capping?
Under the new fare-capping scheme, the regular fare will remain $1.75 with two hours of free transfers. However, instead of paying for each ride you take in a day, no one will pay more than $5 a day to ride or $18 in a seven day period. After you reach the 1-day and 7-day caps, you can continue to ride free. 
Who is eligible for fare-capping?
All TAP card users are eligible for fare-capping starting July 1. There is no need to sign up for the new fare structure. You can use your existing registered or unregistered TAP card to pay per ride using Stored Value and you will automatically receive the benefits of fare capping.
Why is Metro doing this?
This new, simpler fare structure is going to eliminate the need to buy 1, 7, or 30 day passes. When you buy a pass, you may not always ride enough to get the full value of the pass, but with fare capping, you never overpay. You only pay for the rides you take.
How do I pay for my rides?
To enjoy this benefit, you need to have a TAP card and pay for fare with Stored Value. If you're still paying fares with cash, please get a TAP card. They're available for $2 at TAP vending machines located at Metro Rail and Busway stations, onboard Metro buses, at Metro Customer Centers, at TAP vendors, and on taptogo.net or the TAP mobile app. You can still pay with cash, but you will not be able to take advantage of fare-capping.
Do Senior/Disabled riders still have discounted fares?
Yes, the base fare for seniors and customers with disabilities will remain at 75 cents during peak hours and 35 cents during off-peak hours. The daily cap will be $2.50 and the seven-day cap will be $5. 
How does this affect student riders?
The base fare for K-12 will drop from $1 to 75 cents and college and vocational students will see their base fare drop from $1.75 to 75 cents. Student fares will be capped at $2.50/day and $6 in a seven-day period. If you have a GoPass or a U-Pass, nothing changes. Continue to enjoy riding free and you don't have to do anything.
What happens if I am a LIFE rider?
LIFE (Low Income Fare is Easy) riders will get 20 free rides on transit in LA County (includes two hours of free transfers on Metro). After the 20 free rides are used, you will use Stored Value to pay per ride until you reach your 1-Day or 7-Day cap.
Are transfers still free?
Yes, all transfers that take place within two hours will remain free. 
Will Metro Micro or Metro Bike Share be affected by these changes?
No, both Metro Micro and Metro Bike Share will continue to operate the same as they have been. 
What other changes is Metro making to its fare structure?
On the J (Silver) line and all other express buses, riders will no longer have to pay the 75 cent surcharge. All Metro rides will be the base cost of $1.75.
If you have any other questions about how to use LA Metro or for any other commute planning needs, feel free to reach out to the BTMO at info@btmo.org.