Reduced Traffic Lanes on Southbound I-5 this Weekend
Begins: Friday, January 8th @ 10:00PM
Ends: Monday, January 11th @ 5:00AM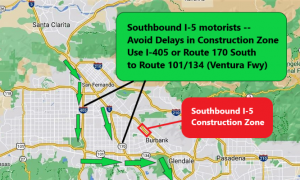 Check out this video for a quick breakdown on the lane reductions and click here to learn more.
As part of the I-5 HOV Lanes project, Southbound I-5 will be reduced to one or two lanes in Burbank for 55 hours from Friday evening until Monday morning  to shift traffic onto new pavement from Empire Avenue to Magnolia Boulevard in Burbank.
The following ramps will be closed from 9 p.m. Friday, Jan. 8, to 6 a.m. Monday, Jan. 11. Times are subject to change:
o   The Southbound I-5 Buena Vista Street on-ramp CLOSED
o   The Southbound I-5 Empire Avenue on-ramp CLOSED
To avoid congestion and delays in the construction zone, freeway signs will advise Southbound I-5 traffic to consider alternative routes such as:
o   Southbound I-405 to Eastbound Route 101/134, or
o   Southbound Route 170 to Eastbound Route 134
All lanes on Northbound I-5 will remain open.
Dates, times and closures may change. More information at http://my5la.com and on Twitter https://twitter.com/my5la?lang=en