Thanks to everyone who joined us for the Commuters of Burbank Meeting Part II on October 8, 2020! 
To watch the video of this meeting, click here for the link!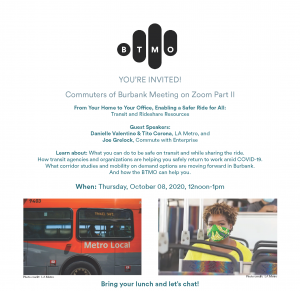 Where: (we'll send you the link!)
How: RSVP here by Wednesday, 10/7
Who: BTMO member employees and residents
For questions and to RSVP directly, contact Bronwen Keiner at bronwen@btmo.org or at 213-425-0966.
Five, $100 gift cards will be raffled off to those participants who RSVP by 10/7.
Find out if you're the winner at the end of the call!